The fairytale weddings in New York through ston Snowzilla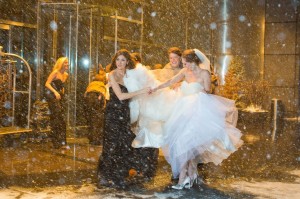 The Blizzard

Snowzilla

It was undoubtedly one of the greatest in the history of

New York

, something confirmed by the Mayor of the city

Bill de Blasio

. And although the American metropolis almost paralyzed by the conquering of snowball, there were some who throughout this didn't see obstacles but the chance of a lifetime to live a day you will never forget. The

New York Times

was there and prepared a beautiful tribute to three of the couples braved the bad weather and with a backdrop of white New York exchanged vows of eternal love.
That's exactly what happened in the case of mellonyfwn

Stephanie Schneider- Matthew Schwart

z, but couples

Danielle Borovoy-Daniel Greenberg and Amanda Mott-Gun Michael

n, which were all planned to get married within the previous Weekend and not only postponed their marriages but pleased with this fairytale scenery created by the snow.
When Stephanie, a lawyer from

Brooklyn

started planning her wedding before 8 months, had in mind that the January carries the risk of bad weather. For' This care on' authority to put a clause to the photographer that he would cancel the agreement "because of acts of God or nature or terrorism". This, however, that he didn't realise was that will marry eventually amid snow storm. "I get dressed, I'll have my husband there, my photographer and my family. So I thought '' come! '.
It doesn't bother me at all" explains Stephanie, who decided not to annul the marriage, inform the 186 guests. Eventually only half were able to attend and paranyfes arrived wearing heavy parkas and boots. "Anyway, this was our wedding" Yumiko, recently married Stephanie says, who did not hesitate to be photographed with bare shoulders in the snow. "It was softer than expected and [snow] made it even more special" says.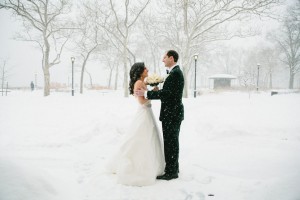 The same scene prevailed and in marriages of

Danielle Borovoy- Daniel Greenberg

and
Amanda Mott- Michael Gunn,
who however instead of Saturday, carried the wedding on Sunday, the Blizzard would ease up a bit. In the case of Amanda, to marry with snow was for her lifetime dream. "He loves the snow.
I said ' Mom, I know how will it snows on my wedding day '. All we laughed and said, ' Well, I guess a little more strongly finally prayed because he managed to bring Blizzard! '", says her mother. As for the wedding photographer, was a unique experience but thanked. "By the time they decided to go the next day, it was like I was relieved. It was like stunned, type: ' Go out to practice and to take some fantastic photos in snowstorm. I do not care the wedding dress. I'll be brave and I'll do it '. I haven't come across and many brides that wanted to be soaked
the wedding dress

and to stand in the cold air" He says.